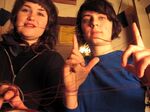 Bedroom Eyes is a Santa Cruz band made up of Rachel Williams and Raya Heffernan. You can find them all over Santa Cruz singing to themselves, slapping their legs blue in the darkness of theatres and coaxing young and old alike to rock out and have fun.
They sing about love, the extra in the ordinary and Twin Peaks.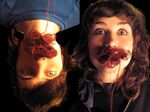 rachel: piano vocals harp trumpet drums thighs
raya: piano vocals bass scissors boron thighs
External links
Edit
Ad blocker interference detected!
Wikia is a free-to-use site that makes money from advertising. We have a modified experience for viewers using ad blockers

Wikia is not accessible if you've made further modifications. Remove the custom ad blocker rule(s) and the page will load as expected.