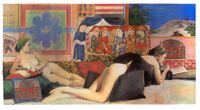 Big City Orchestra
is an art/
noise
band
formed in
Santa Cruz
around
1979
by
dAs
,Mike Dean, David Kerman and others. Their early performances included poetry readings and such instrumentation as demolished electric guitar, atonal electric bass, synthesizer, prepared violin, prepared hammered dulcimer, tape loops, AM/FM radio, bird calls, and spray paint.
Among other subjects, they satirized the local new wave scene, on one occasion reciting a diatribe about Polio Ferrari. They (or dAs) were also responsible for posting flyers around town advertising nonexistent bands including Cao Testicle (an obvious reference to Tao Chemical).
Big City Orchestra, still performs to this day current members including Santa Cruz Residents Cliff Neighbors, Ninah Pixie, dAs, and scores (literally) of others.
They also continue to produce weekly experimental music programs
Discography
Edit
In 1982 they released a cassette titled Tryst that came enclosed in a painted Ziplock bag accompanied by numerous little color-Xeroxed images and other detritus.
Other relaeses include A Good Time To Start Something New (Cassette) Epitapes Aime-Morot (Cassette) Harsh Reality Music Baobab (Cassette) Biotope Art Organization Childhood Rememberences (Cassette) Seiten Sprung Aufnahmen Edge Of Destruction (Cassette) Swinging Axe Productions Fresh Prezzies - Exclusive Tracks For Radio And Friends (CDr) Not On Label Fury From The Deep (Cassette) Markus Schwill Hand Of Fear (Cassette) Calypso Now ! In The Near Future (Cassette) Freedom In A Vacuum Long Term Stimulation (Cassette) SSS Productions Magnetic Personality (Cassette) IEP Mind Bent And Fancy Free (Cassette) Industrial Therapy Unit Mind Of Evil (Cassette) The Subelectrick Institute Myth Makers (Cassette) Nihilistic Recordings Painfull Audio Enema (Cassette) Lowlife Audio Pandora Flutter Tongue (Cassette) Ecto Tapes Parade Of Idiots (Cassette) Bog-Art Planet Of Giants (Cassette) Peuleschille Tapes Prattling Box (Cassette) Tragic Figures Progressive Composition (Cassette) ZNS Tapes Resurrection Men (Cassette) Seiten Sprung Aufnahmen Seeds Of Doom (Cassette) BloedvlagProdukt Sound Choice Cassette Culture Selection (Cassette) Sound Choice Telegraphe (Cassette) New Flesh Tapes Untitled (Cassette) Kadef Massacre Of The Innocents (Cassette) Sound Of Pig 1985 Bob Hope's Fruit Loop Special (Cassette) Audiofile Tapes 1986 Gateway Of Fruit Loops (Cassette) The Subelectrick Institute 1986 Massacre Again (Cassette) Tonspur Tapes 1986 Arc Of Infinity (Cassette) Harsh Reality Music 1987 Mile After Mile (Cassette) Sound Of Pig 1987 Trail Of Destruction (Cassette) S.J.Organisation 1987 Animal Religion (Cassette) Ralph Records 1988 Everymen Is A Volume (Cassette) Korm Plastics 1988 Web Of Fear (Cassette) S.J.Organisation 1988 Headache Remedy (Cassette) Ecto Tapes 1989 Obivion Realized (Cassette) Minus Habens 1989 The Man Of Steal (Cassette) Audiofile Tapes 1989 The Four Cassettes Of The Apocalypse (CD) The Subelectrick Institute 1991 Beatlerape (CD) Realization Recordings 1993 Greatest Hits And Test Tones (CD) Pogus Productions 1993 Schall & Rauch (Cassette) Tonspur Tapes 1993 So Much Dancing Then Nothing (Cassette) Old Europa Cafe 1993 A Child's Garden Of Noise (7") Drone Records 1994 So Much Nearer Than Ubiquitious (Cassette) Ubuibi 1994 Grass B/W Grass (7") Sick Muse Records 1995 The Consumer (CD) Commercial Failure 1995 Anguilliform (Cassette) EE Tapes 1996 Instructions For Use (CD) Pure (US) 1996 Aime-Morot (Cassette) Haltapes 1997 And When We Get Homme, We Find Someone Else's Male (Cassette) FDR Tapes 1997 And When We Wake Up, There Is Sheep In Our Eyes (Cassette) Doomsday Transmissions 1997 Arc Of Infinity (Cassette) Haltapes 1997 Eek! (Cassette) EE Tapes 1997 Split Single (7") Aquese Recordings 1997 When We Wake Up... (CDr) Haltapes 1997 The Collected Works Of Od McUb (CD) Vinyl Communications 1998 Virus Radio Vol. I (Cassette) Mutant Cactus Recordings 1998 Everyman Is A Volume (CDr) Korm Plastics 1999 Arc Of Infinity (CDr) Harsh Reality Music 2000 Block Cedar Oakandstraw: Would (CDr) Blade Records (Italy) 2001 Eurotour 2001 (CDr) Ubuibi 2001 Scarab (CDr) EE Tapes 2002 Can't We Just Have Sex Instead? (MP3) Brokenwave 2003 In A Persian Market (CDr) Verato Project 2003 Moisture (CDr) Reduktive Musiken 2003 Trixxy Pixxy (MP3) Comfort Stand Recordings 2004 Airre (CDr) Entr'acte 2005 Big City Orchestra (MP3) Beta:Sound 2005 Boom Crash Crash (MP3) Comfort Stand Recordings 2005 Kismet (MP3) Umbrella Noize Collective 2005 Progressive Composition (MP3) ZNS Tapes 2005 Things Fall Down (MP3) Lostfrog 2005 Does Art For... (CDr) Roil Noise Offensive 2006 Signals And Code (MP3) Umbrella Noize Collective
External links
Edit