The Public Enemies, later known as The Child Prostitutes, were a hard-edged trio led by Steve Sheppard, Eddie Clavel and  Richie (drums). The band formed in 1978 by Steve Sheppard, Eddie Clavel and Richie Walker. One thing that set them apart was that their guitarist Eddie Clavel frequently doubled on harmonica. "Punk is a scene that died a long time ago," Richie told Good Times. "We just like to play good music and have a good time. but, yeah, you could call us a punk band. We're about as punk as it ever gets."  The band practiced in Eddie Clavel's garage on Rock street in Mountain View Ca. (the Bay Area).  The band rehearsed there for several months until they had driven the neighbors crazy. Rehearsals were then moved to Richie Walkers upstairs loft in Soquel Ca. The band "The Public Enemies" rehearsed relentlessly and played their first show in Richie Walker's back yard in Soquel Ca. They invited the band Enigma to help draw a crowd. Needless to say they blew the punk rock scene of Santa Cruz away. The word spread in Santa Cruz and they were invited to play at Shellies Two, a small club in Santa Cruz by Lily Lazer and Paul (Prisoner) Edwards the manager and member of a band called The Prisoners.  The top bill of the evening was Jack Cassady's of the Jefferson Airplane new band SVT (Sex Violence Terror), the Prisoners were 2nd to top bill and The Public Enemies opened the show with a blaze of fire crackers at the back door.
The next show they played was at the Art Center in Santa Cruz. They opened up for the band No Alternative (formerly the band KGB).Their set that night was dedicated to John Lennon who had been assassinated that same night. The Public Enemies went on to play Cha Cha's with the Schematix and the Flaps. The large picture below is of the band playing at the Sound of Music know as the S&M at 162 Turk street in San Francisco.  This picture now hangs in Eddie Clavel's recording studio (egc studio) and was taken on New Years around 1980.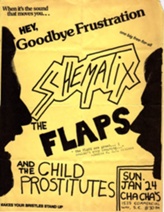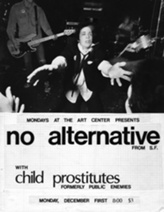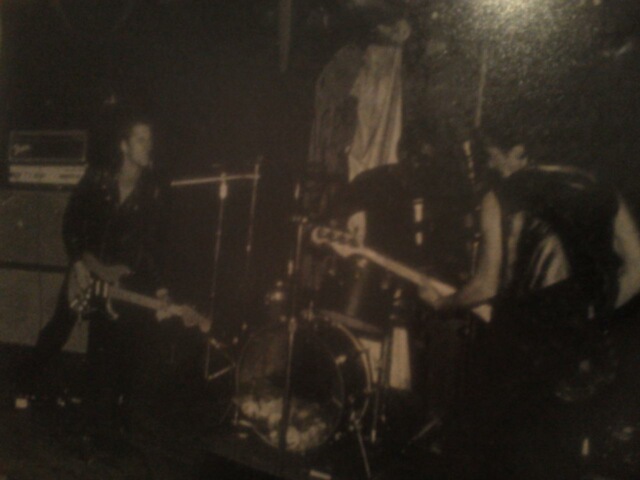 Ad blocker interference detected!
Wikia is a free-to-use site that makes money from advertising. We have a modified experience for viewers using ad blockers

Wikia is not accessible if you've made further modifications. Remove the custom ad blocker rule(s) and the page will load as expected.