Dave Ninja (nee Branum, and also called Davey) was born in Santa Cruz in 1974 and best known locally as a member of The Four-Eyes. He moved to Sacramento in 1995, where he still lives today.
He started playing in bands in 1992. He has played in such Santa Cruz bands as The Lint Farmers, Break, Tard, Mote, The Four Eyes, Ben, Franklin and The Electric Keys, The Rocktones, The Touchdowns, and No Kill I:The Next Generation.
In 1994 he started producing Ninja Zine, a comedy/ninjitsu/music magazine. The first issue was all of four pages long. Ninja Zine ran for five issues, each issue growing in length. It's from this 'zine that he acquired the "Ninja" moniker.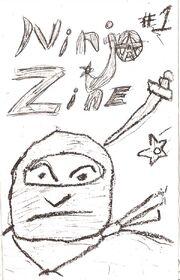 Ad blocker interference detected!
Wikia is a free-to-use site that makes money from advertising. We have a modified experience for viewers using ad blockers

Wikia is not accessible if you've made further modifications. Remove the custom ad blocker rule(s) and the page will load as expected.