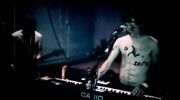 Dead Daughter is a punk band/performance art group that began in Santa Cruz in association with Happy Meal, first performing live in September 2008.
The Reverend Allah Jehovah (A Fashionable Disease) released one of their songs on the compilation "Ass Jazz" for his internationally known The Pet Goat Records label in 2008. The same year he posted online both their early albums for free download.
Dead Daughter performed their first show at the Blue Lagoon (the flier said Happy Meal) on 17 September 2008, on the occasion of God of Shamisen putting out a new CD. Dead Daughter established their use of ritual corn implements, strobe lights, the "puke technique" of vocalization and therapy-inspired lyrics, while playing hypnotic noise in any beat available, from thrash to reggaeton to trip hop. The band's portability allows the members to focus more on physical performance. They toured very briefly in September 2008 and then played two dates in October in San Francisco as a trio.
In the spring and summer of 2009 the group performed in Watsonville, Salinas and Hayward, where underage fans went crazy and an inspired adolescent fan discharged a fire extinguisher at the band, cutting their set short. In the same fashion they played Ben Lomond, Sacramento, Davis and Berkeley in April alongside David Novick (San Francisco Watercooler, Residual Echoes) and the Jen Weisberg Experience.
The band's logo is written in Wulfilan Gothic, a script adopted from Greek over a thousand years ago in Eastern Europe by the Greek-Gothic cleric Wulfila to write the four gospels of the bible. The words are pronounced roughly "dochtus dochter."
External links
Ad blocker interference detected!
Wikia is a free-to-use site that makes money from advertising. We have a modified experience for viewers using ad blockers

Wikia is not accessible if you've made further modifications. Remove the custom ad blocker rule(s) and the page will load as expected.