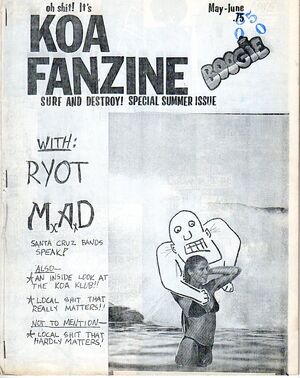 KOA was a handwritten and typewritten fanzine published in 1982 in La Selva Beach. The editor appears to have been a teenager who called himself J-Bull or J-Bulldog. (Other extant documentation identifies "the Boys at KOA" as Chris, Ryan, and Jeff.) The zine covered the local hardcore scene and nationally known bands like Black Flag.
"J-Bull" was the pen name given to Jeff Fiorovich by the rest of the KOA staff, after his tenacious self-defense at local "longhair" parties. He was also known tongue-in-cheek as "Johnny Block," after one standoff in which one stoner asked him "Who are you, Johnny Block?" (apparently referring to Fiorovich's square haircut and build).
Fiorovich took the name KOA from the local "kampground" where Christian, Cox and the others would play video games.
The staff of KOA included Fiorovich, Chris Yonts, George Milburn, Ken Cox, John Christian, and James Crush. Occasional contributors were Pete Testorff and Steve Ilse of Ryot, Clifford Dinsmore of M.A.D./BLAST!, Myk Erxn of Breathing Toolsheds, "Tweety Bird's [Ken Cox's] girlfriend," Ilse's cousin Mike "Anderskin" Anderson, Phil Zeip and Mike Totah.
Fueled by instant coffee, Vivarin, and Skoal tobacco, KOA was layed out in Jeff's parents' guest house in La Selva Beach to the soundtrack of Jeff's extensive (and much-pilfered-from) record collection. "Let's have a KOA-sesh," was Jeff's rallying cry to the group.
Three issues were published, the first containing a lengthy Black Flag interview from the gig at The Warehouse in the summer of 1981, which Yonts and Cliff Dinsmore had originally intended for use in a different zine, "Surf & Blood" (this name was taken from a sacrastic comment by Kickboy of SLASH Magazine, in an interview appearing in DAMAGE magazine). Issue Three had a blue cardstock cover - a huge aesthetic improvement, although the darker color rendered the cheap gray toner virtually unreadable.
The zine consisted mainly of "letters from the editor" (i.e., from fictional readers), record/concert reviews, band interviews, caricatures of scenesters, and features such as the "Slop Bucket Review" and a review of sandboarding (a sport which the writers had invented using snowboards on the huge dunes of nearby Marina). A classic letter was from Christian's mom, reminding him to set off the flea bomb in the living room before he left that morning.
While at times the writing style was puerile, strongly influenced (in its own way) by the worst of National Lampoon, the magazine had a hefty portion of uncolored, useful information about the punk scene. One real letter to the editor was from Wendell Blow of Iron Cross, an important D.C. straightedge group.
Cox tried to rally the crew for a reunion issue in 1985, but to no avail.
Yonts later published two issues of Rockabilly Maniac, and produced John Holmstrom's PUNK Magazine website (http://www.punkmagazine.com).
Ad blocker interference detected!
Wikia is a free-to-use site that makes money from advertising. We have a modified experience for viewers using ad blockers

Wikia is not accessible if you've made further modifications. Remove the custom ad blocker rule(s) and the page will load as expected.