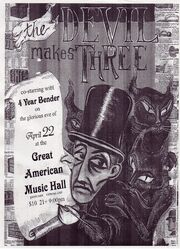 A native Santa Cruzan and resident of both Plymouth Street (2 years) and Rigg Street (4 years), Kai Smart is an artist that has always been deeply involved with the SC underground music scene. She has done design and illustration for the bands The Devil Makes Three, Sin in Space, The Parcel, Mule Train, and numerous show posters (mainly for her friends bands and bands playing at the venue in which she lived).
Still active in the music scene, Kai Smart now resides in San Francisco.
Ad blocker interference detected!
Wikia is a free-to-use site that makes money from advertising. We have a modified experience for viewers using ad blockers

Wikia is not accessible if you've made further modifications. Remove the custom ad blocker rule(s) and the page will load as expected.