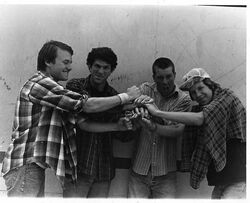 M.A.D. was the precursor to B'last!. They formed in 1982 with Clifford Dinsmore on vocals, Steve Stevenson on guitar, Dave Cooper on bass, and Bill Torgerson on drums. The name stands for "Mutual Assured Destruction."
Clifford had formed a band called Holocaust in 1981 while still in high school, though they never made any major public appearances. M.A.D. came into existence when Bill and Dave (and possibly Steve as well) moved to town from Sacramento. The band became very popular on the Northern California hardcore circuit, playing many gigs in the Bay Area.
Discography
Edit
One song, "Holocaust," on the "Not So Quiet on the Western Front" compilation on the Alternative Tentacles label.
"M.A.D.: The 1982 Blast! Demo" was released as a 7-song CD by Mankind Records in 2008.
Ad blocker interference detected!
Wikia is a free-to-use site that makes money from advertising. We have a modified experience for viewers using ad blockers

Wikia is not accessible if you've made further modifications. Remove the custom ad blocker rule(s) and the page will load as expected.