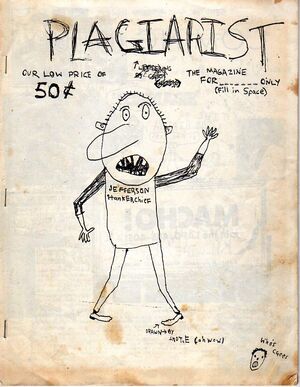 Plagiarist ("The Magazine for [fill in the blank] ONLY") was a photocopied spoof published in the summer of 1980. Its original content included a "Top 35" list and a two-photo fumetti of Chris X (Yonts) pretending to punch his younger brother in the face ("The Casebook of Lt. Foodbert"). It "borrowed" many pages and cut-out fragments from other publications, including PUNK #3, DAMAGE, New West (the "New Wave" issue), National Geographic, Surfing, Good Times, and Yonts's high school German textbook.
It always surpised Yonts that Scotty Wheeler cut up a perfectly good copy of PUNK #3 in order to paste it into the pages of Plagiarist. "He was what you might call a dedicated journalist," Yonts quipped.
David Rapaport was working at the Cedar Street Kinko's at the time, and took $10 cash (tax-free) from Chris X to publish the zine's one and only print run of 30 copies (or so). "Gimme ten bucks," was Rapaport's official comment, adding, "You guys are weird."
Ad blocker interference detected!
Wikia is a free-to-use site that makes money from advertising. We have a modified experience for viewers using ad blockers

Wikia is not accessible if you've made further modifications. Remove the custom ad blocker rule(s) and the page will load as expected.