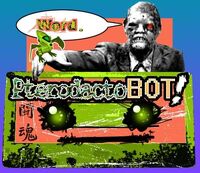 Pterodactobot! is a Santa Cruz band originally comprised as Stefen Smith, Trevor Cox, and Robin Wotanedtum. They would appear at Trevor's house on half days and just wail on the keyboard and guitars. It got real old after awhile, so they decided they needed some sort of order. They moved all there equipment into Stefen's tiny room where they have continually practiced since. Later they asked Mason Rosenberg if he wanted to join, and he was all like "Hell Yes!". They currently have about six completed songs.
External links
Edit
Ad blocker interference detected!
Wikia is a free-to-use site that makes money from advertising. We have a modified experience for viewers using ad blockers

Wikia is not accessible if you've made further modifications. Remove the custom ad blocker rule(s) and the page will load as expected.