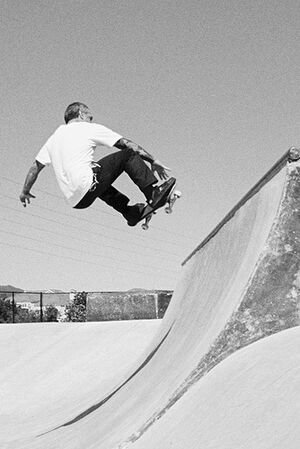 SKOT.E aka SKA-T (real name: Scotty Wheeler) was a co-founder of Scrud fanzine. He went on to co-found the Young Alcoholics. He was originally the lead singer when the band was called Skin a Dog, then later became the band's drummer.
At 43 Skot.E uses his real given name William S. Wheeler. He lives in San Francisco and at 43 is an avid skateboarder and plays guitar for an underground band "tehn" He is also married and recently graduated night school, obtaining his GED and plans to attend college.
He is also a photographer having sold many pieces and even having a few shows around 2006.
He wrote "goast" too.
From Skot. E himself on 2/05/09
Your giving me WAY to much credit by listing me in the muscian section. As Myk Erxn once said "You're not a real muscian" but hey, the information above is pretty true for the most part, so I will take what I can get. Just let me add that I am not planning on, but I do attend CCSF and if you want to get in touch with me then you can email me at wheeler_sf@yahoo.com.......As for the band "Tehn" some kind of stupid demo might be out sometime this year.
Myk Erxn and Scot E. Wheeler were also in the short lived band Woolworthless. The band centered around a plastic guitar and mic the two had purchased at Woolworths. The band disbanded shortly after one street performance.
Ad blocker interference detected!
Wikia is a free-to-use site that makes money from advertising. We have a modified experience for viewers using ad blockers

Wikia is not accessible if you've made further modifications. Remove the custom ad blocker rule(s) and the page will load as expected.