Scrud was a Santa Cruz zine published 1979-1980 by Scot E., Myk Erxn and Chris X. All of them were in their early teens. As the Santa Cruz underground scene had no other publication at the time -- the closest thing being Good Times -- Scrud was taken quite seriously, despite being hand-lettered/typewritten and printed on a xerox machine. It was sold at Cymbaline Records, and the Small Nambas referred to it in their song "Famous in Santa Cruz." (Nancy Tracy, who worked at Cymbaline and was the Nambas' bassist, was a Scrud contributor.) Scrud's biggest coup was an interview with The Ramones by Scot E., conducted backstage when the band played at the Civic Auditorium.
In late 1980 one issue of a successor zine, Plagiarist, was published by Scot E. and Chris X. (Myk had quit the team.) The zine featured record reviews clipped out of better-known publications like Damage, with the bylines crossed out and "Skot E." written instead.
In 1981, with their journalistic careers largely behind them, Scot and Myk mended fences and formed a musical partnership that eventually came to be known as the Young Alcoholics.
For his part, ChrisX has worked on various projects including the PUNK website (http://www.punkmagazine.com).
Note: "The images below are from Issue 1 of SCRUD which my grandpa mailed back to me before he died. This is a special edition I made for him and Gram where I took out the swear words. This is the only copy of the magazine currently in my possession. I would gratefully accept copies of others if any readers are kind enough to send them. -'Chris X' (Yonts)"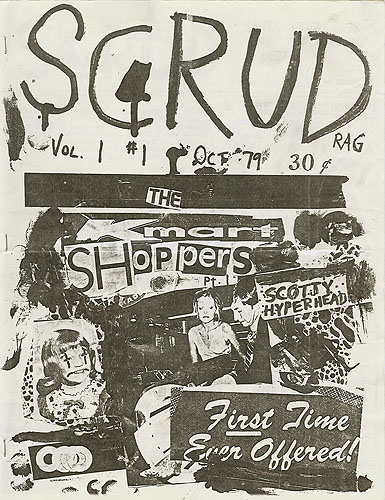 Ad blocker interference detected!
Wikia is a free-to-use site that makes money from advertising. We have a modified experience for viewers using ad blockers

Wikia is not accessible if you've made further modifications. Remove the custom ad blocker rule(s) and the page will load as expected.