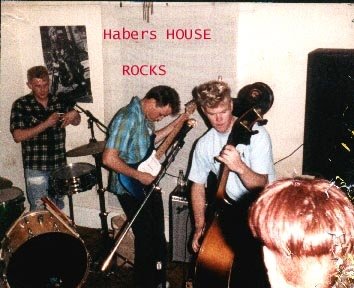 where can we find more info about this band? a google search for
"Elmer's Shotgun" Psychobilly
brings only
this
, which says that the band was on a 1990 Planet (PLP 007) compilation.
Kingturtle
02:01, 18 Oct 2005 (UTC)
Elmers Shotgun
Edit
Elmers Shotgun was a Psychobilly band from Santa Cruz California from 1988 to 1995. Nick and Todd had played pervious in the band The Echos (1986) with Pumps guitar player Andy Miller. In 1987 they began the band Nervous with San Jose Johnny. The following year their friend Mike introduced Nick and Todd to a punk rocker he worked with named Pete Johnson. They began to practice in the back of Nick's parents house. Elmer Shotgun played their first gig at Mike's house with Nervous and the San Jose Rockailly band the Kingpins. Both Nervous and Elmer's Shotgun coexisted together for a short time until the break up of Nervous in 1988. ---------------------------------------------Photo: Adam Ogilvie
The band played mostly local but played two Psychobilly festivals in the UK. In 1990 they played the first Big Rumble in Hemsby England which also debuted Mad Sin and Nekromantix to the UK. The first Big Rumble was the beginning of a new sound for the Psychobilly scene. Kids who came to the first Rumble to see headliners such as Frenzy, Guana Batz and Restless were exposed to a new harder psychobilly sound from bands such as the Klingonz, and Mad Sin. Elmer's returned in 1993 to play the third Big Rumble with a completely different sound. Mike introduced them to Brian Gilliam who was the guitar player for the Vicious Midgets. Brian's extra guitar gave the band a much heavier tone. This time Elmer's Shotgun headlined with the Klingonz, Mad Sin, and Demented are Go. They were the first real Psychobilly band on the West Coast of the USA if you do not count the Cramps. They certainly were the fastest!
The band consisted of Todd Smitherum, Nick Mitchell, Pete Johnson, and eventually Brian Gilliam. Their early work sounded more like Rockabilly/cow-punk that eventually developed into a sound more like the love child of classic california punk meets a ferile stray cat. They played fast and loud and did not adhere to any of the rules of Rockabilly like the Quakes and other US bands at that time.
Their live shows were a mixture of good and bad. They once set a backyard on fire, their bass player was always either injured or drunk, and their singer hated to play live. They basically never took anything serious, especially not themselves or the whole scene. They laughed at it all.
They were a great band that if you were lucky enough to see, you are one of very few.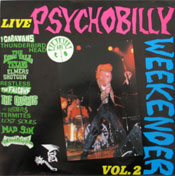 Discography:
Psychobilly Weekender Vol. 2 (Planet Records)
1.Caravans: Easy Money 2. Thunderbird Head: Smile Of A Stranger 3. Long Tall Texans: Get Back Wet Back 4. Elmers Shotgun: Crawlig Out Of The Grave 5. Restless: Shake Your Moneymaker 6. Restless: New Orleans 7. Falcons: Monster Dance 8. Quakes: Psycho Attack 9. Rattlers: Gone Forever 10. Termites: Devil Call 11. Lost Souls:Prisoner Of Love 12. Mad Sin: Straight To Hell 13. Klingonz: Here On My Own


Elmer's Shotgun Music Video:
http://www.youtube.com/watch?v=WVDh5BFRas0
answer to Kingturtle
Edit
what do you want to know?