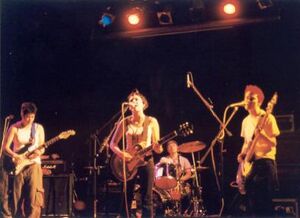 Tenth of Always was a Santa Cruz punk band (2001-2002) involving Faith Gardner (vox/guitar), Melissa Cox (guitar/vox), Shayle Matsuda (bass/vox) and Alana King (drums). They participated in the Big Bang 2001 and Lady Fest Bay Area 2002.
The band was started by Alana and Faith, each of whom had lived in Santa Barbara, California and had a band together called Kill Kara. Tenth of Always' first show was September 27, 2001 (at the Big Bang). Shortly after that, they were asked to record an album with Triple Forte. In early October, they recorded a ten song album. The record was released the following Spring.
Song included "Pathos," "All Over Again," "Mysterioso" and "Earthquake."
The Tenth of Always was the nightclub where Candy Darling first met Andy Warhol in 1967.
Ad blocker interference detected!
Wikia is a free-to-use site that makes money from advertising. We have a modified experience for viewers using ad blockers

Wikia is not accessible if you've made further modifications. Remove the custom ad blocker rule(s) and the page will load as expected.