The Batteries
was a
Santa Cruz
band
(
1979
-
1985 & 1989-1991
) originally involving
Tony Canipe
(
lead vocals/guitar
/
keyboards
),
Mark "Curly" Grove
(
bass/vocals
),
John McCullough
(
guitar/vocals
) and
Steve Velasquez
(
drums
). They were the first local band ever featured on a
Good Times
cover (
May 21
,
1981
). Unfortunately, the band had to cancel some gigs in June 1981 after Steve crashed his car into a telephone pole. He received 60 stiches.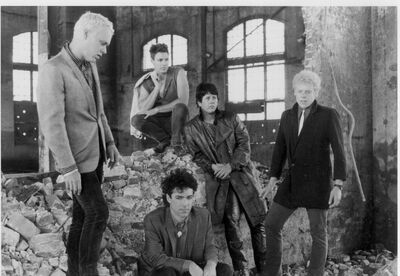 With a change in mind, and striving for a more driven & dynamic sound, Jack Hammer (formerly of The Secrets) became the drummer in October 1981, along with the addition of Ramone Graydon on keyboards. The band moved quickly from not only opening shows for major touring acts such as The Ramones, X, Missing Persons, but headling their own mostly sold out shows. They appeared numerous times at the Catalyst, Santa Cruz Civic Auditorium, and the Coconut Grove Ballroom at the Boardwalk. Their first album was recorded at the Catalyst, produced by Ken Kraft of Snail, and released in 1982. Steve Deutch or Sam Phipps would sometimes sit in with them on saxophone. They were voted Best Band in the 1982 Good Times Best of Santa Cruz Readers Poll Awards.
In 1984 they traveled to Berkeley to work with producer Bill Spooner of the Tubes and recorded the six song EP, Think Of Somebody. The record contained the song" Spoiled Americans" which became a video that landed on MTV's Basement Tapes. The video finished in the top five and was broadcast nationwide.
While several major label deals were tantalizingly close, the frustration of not getting it done proved to be too much and they disbanded in 1985. Tony, Jack, and Johnny agreed to give it a go again in 1989 with former band roadie Mario Garcia on bass and Chris Rieger , formerly of Eddie & the Tide, on keyboards. Unfortunately, with legal difficulties surrounding the drummer Jack Hammer, and other factors, the band dissolved for good in 1991.
Songs included "I Don't Wanna Relax", "Can't Stand It", "You're So White," "Crime Wave" and "Kill Me."
Discography
Edit
The Batteries LP, released 1982 by DeLyon Records
Think of Somebody EP, released 1984 by Bop O'Bay Records
Waiting o

n Angel

45 single, released 1984 by Bop O'Bay Records