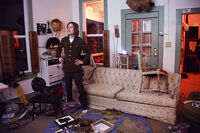 The Crystal Palace is a multipurpose venue full of $20 computers and musical instruments.
This two story farmhouse is not to be torn down and replaced with shitty apartments on July 1st 2007 as was anticipated. It remains occupied on a month to month lease. The land is managed by Pacific Sun Properties.
Update: The Crystal Palace was torn down to be replaced with shitty apartments in 2013. 
107 Blackburn St. Santa Cruz 831-425-3740
Housemates
Edit
External Links
Edit
Ad blocker interference detected!
Wikia is a free-to-use site that makes money from advertising. We have a modified experience for viewers using ad blockers

Wikia is not accessible if you've made further modifications. Remove the custom ad blocker rule(s) and the page will load as expected.