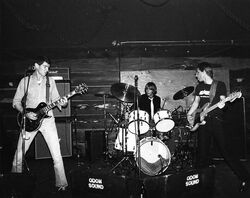 The Drivers were a Santa Cruz band (1979 - 1980) consisting of Dan Waller (bass/vox), Michael Litton (drums) and Kevin Loose (guitar/vox). They were briefly managed by Andrew Bailey, who introduced them one night at the Catalyst as a "heavy metal new wave band." They opened for the Ramones at the Civic Auditorium on April 11, 1980.
The Drivers, in this era, were known to be tight and professional. Their debut single was hot.
They broke up but reformed in 1981 with Randy Girard on guitar. Kevin moved to San Francisco and played in a heavy metal band called Red Vette. (Prior to playing with the Drivers, Kevin had been in a seldom-seen Santa Cruz band called The Surf Nazis.) Michael joined The Scapegoats in the fall of 1981 but continued playing with the Drivers as well.
Discography
Edit
A single in 1980 with "Johnny's Dying" and "I'm No Moron." (Both songs also appeared on Surf City Underground.)
Ad blocker interference detected!
Wikia is a free-to-use site that makes money from advertising. We have a modified experience for viewers using ad blockers

Wikia is not accessible if you've made further modifications. Remove the custom ad blocker rule(s) and the page will load as expected.