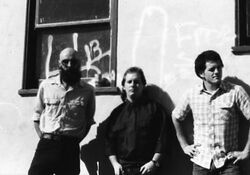 The Flaps were a punk band formed in 1981 by Dave Calloway (guitar) and Larry Hughes (drums) after Paul Edwards left The Prisoners. Mike Browne played bass for a short time, but was then replaced by Les Larsen. Calloway then switched back to his usual job on bass, and Les took over on guitar. The trio played several local Santa Cruz gigs, most notably with D.O.A. at Cha Cha's, the club which is now known as Moe's Alley.
Ad blocker interference detected!
Wikia is a free-to-use site that makes money from advertising. We have a modified experience for viewers using ad blockers

Wikia is not accessible if you've made further modifications. Remove the custom ad blocker rule(s) and the page will load as expected.