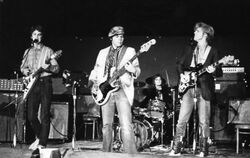 The Four Cats (1980-1981) was a Santa Cruz new wave band from UCSC. Original line-up was Greg Chediak (guitar, vox), Chris Carvey (guitar), Vince Donovan (bass), and Sally Kallenbach (drums). Vince was later replaced by Ron Baldwin.
They released a single on their own Trend Pig label.
Ad blocker interference detected!
Wikia is a free-to-use site that makes money from advertising. We have a modified experience for viewers using ad blockers

Wikia is not accessible if you've made further modifications. Remove the custom ad blocker rule(s) and the page will load as expected.