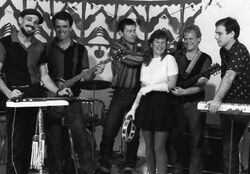 The Thongs (1981-1983) was a Santa Cruz neo-surf band involving Bill Strasser (slide guitar), Terrie Kvenild (Casio), Bo Kvenild (bass), Don Fritz (drums), and Wally Sound (guitar).
Bo, Terrie, Don, and Bill were all artists. The band formed in Bo and Teri's chicken coop to make soundtracks for their homemade surf movies. The Thongs were all about presentation. They would appear onstage in sunglasses or wrestling masks and Ventures-like costumes. Also, they often projected their surf movies onto an onstage screen while they played.
The mainstay of their sound was Bill's wailing slide guitar. Most of their songs had a playful DIY vibe. One song was a marriage of the Batman and Pac-Man themes.
here's a good video!
<object width="400" height="300" ><param name="allowfullscreen" value="true" /><param name="movie" value="http://www.facebook.com/v/1612752326757" /><embed src="http://www.facebook.com/v/1612752326757" type="application/x-shockwave-flash" allowfullscreen="true" width="400" height="300"></embed></object>