Third Reef Productions
was a publishing and production company that put together some of the first punk/new wave shows in
Santa Cruz
. It was owned by
Jim Mazzeo
and Gerry Caskey, each of whom were former road managers for
Neil Young
and
The Band
. The "local production team" was made up of Willie Simmons and
Greg Arrufat
.
They organized the June 23/June 24, 1978 shows at Crossroads that featured The Readymades, The Mutants, The Avengers and The Dils.
Publishing: Local Santa Cruz singer/songwriter Victor Phillips penned "Music is My Mistress" covered by Snail.
Art, Graphics, Designs, Posters & Garfong Fumer - Jim Phillips
All Graphics
© 1976 to present Jimmy aka Jim Phillips
Duck AuthorityEdit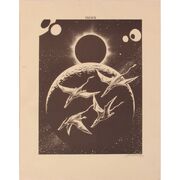 Ad blocker interference detected!
Wikia is a free-to-use site that makes money from advertising. We have a modified experience for viewers using ad blockers

Wikia is not accessible if you've made further modifications. Remove the custom ad blocker rule(s) and the page will load as expected.