Ad blocker interference detected!
Wikia is a free-to-use site that makes money from advertising. We have a modified experience for viewers using ad blockers

Wikia is not accessible if you've made further modifications. Remove the custom ad blocker rule(s) and the page will load as expected.
Third Reef Productions
was a publishing and production company that put together some of the first punk/new wave shows in
Santa Cruz
. It was owned by
Jim Mazzeo
and Gerry Caskey, each of whom were former road managers for
Neil Young
and
The Band
. The "local production team" was made up of Willie Simmons and
Greg Arrufat
.
They organized the June 23/June 24, 1978 shows at Crossroads that featured The Readymades, The Mutants, The Avengers and The Dils.
Publishing: Local Santa Cruz singer/songwriter Victor Phillips penned "Music is My Mistress" covered by Snail.
Art, Graphics, Designs, Posters & Garfong Fumer - Jim Phillips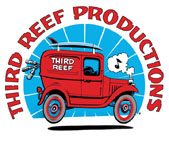 All Graphics
© 1976 to present Jimmy aka Jim Phillips
Duck AuthorityEdit