Todd 'The Doctor' Epstein was the guitar player & 1 of the lead vox in Chameleon (1974-75), also writing some of their original material. Todd was involved in bands in the Santa Cruz area from 1973 until his sudden passing in 1995, first in a duo with Tom 'Groove' Groves, then a trio that also included Jim E Anderson (on acoustic guitar). Todd continued 'fronting' his own groups after Chameleon disbanded in mid-1975, and became one of the most influential and best loved Northern California musicians of the late 1970's and early 1980's. His bands included such highly respected groups as Airtight, Juice and Todd Epstein and Magic. He established Tribute Music, formed Todd Epstein and the Modern Blues Band, and was in the midst of recording a new CD of his own material when he died suddenly. Those who knew Todd will remember him not only for his spirit, energy and compassion as a teacher (NLP), but also for his inspiring creativity and his renowned blues guitar playing.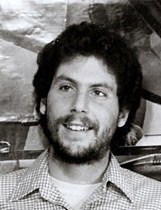 Ad blocker interference detected!
Wikia is a free-to-use site that makes money from advertising. We have a modified experience for viewers using ad blockers

Wikia is not accessible if you've made further modifications. Remove the custom ad blocker rule(s) and the page will load as expected.