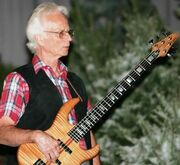 Tom 'Groove' Groves
was the
bass
player and harmony
vox
in
Chameleon
. He was involved in
Santa Cruz
bands
from 1973 to 1979, starting in an 'unplugged' duo with
Todd 'The Doctor' Epstein
and then a trio that also included
Jim E Anderson
(on acoustic
guitar
). The trio evolved into
Chameleon
in 1974. When that group disbanded, Tom joined
Larry Hosford and Friends
along with
Jody Wence
,
Ernie Hagar
,
Frank Reckard
and
Zack Bass
. In addition he continued his association with Epstein in a variety of lineups that included
Michael Spiro
,
Alan Hand
,
Kevin McCracken
,
Jimi Fox
and
Howard Wolen
. Tom also occasionally played with
Tony Gilkyson Band
,
Jeff Blackburn Band
with
Johnny Craviotto
, &
Sean Seman
and
Richie Begin
. Tom now lives in the Santa Ynez valley and continues to play his music.
Ad blocker interference detected!
Wikia is a free-to-use site that makes money from advertising. We have a modified experience for viewers using ad blockers

Wikia is not accessible if you've made further modifications. Remove the custom ad blocker rule(s) and the page will load as expected.