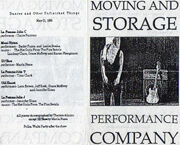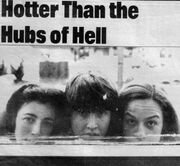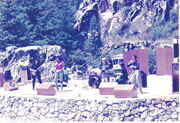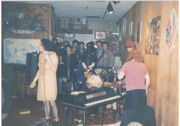 .
Women From Hell (WFH) was a Santa Cruz Riot Grrl trio active from 1987 to 1989. Comprised of UCSC music majors Lindsay Clare/alias Mercy Cunningham (wurlitzer/vox), Grace M/alias Evelyn Black (electric guitar/vox) and Karen Phenpimon/alias Samantha Troy (percussion/drumset) with Dawn Dalton/alias Wanda Ackerman (vox: 1987-88) and occasional guests Tom Yoder and Don Korycansky (trombones: 1988-9, courtesy of Wrestling Worms). They disbanded in 1989, as WFH's core members went on to graduate school at the University of California-Los Angeles, University of California-Berkeley, and the State University of New York-Stony Brook.
Influenced by Wrestling Worms, Henry Kaiser, Art Bears, Sonic Youth, Sun Ra, John Cage, Stravinsky, Patti Smith, The Slits, Beckett and Box of Laffs. Many songs featured the band's stripped down sound coupled with spoken/sung autobiographical lyrics from a feminist-absurdist perspective, odd meter time signatures, metric modulation and sections of free improvisation with bowed electric guitars and extensive use of 'Muff Fuzz' based feedback-distortion. Would often appear masked, under aliases and in costume, as in one Halloween gig ca. 1988 as The Ladies From Hades.
First gig: opening for Wrestling Worms at O.T. Price's Music Hall, ca. 1987. Opened for various acts like Holy Sisters of the Gaga Dada, Mud Wimmin, Weenie Roast and Glorious Clitorius. Appeared as house band for a 1988 show by the Santa Cruz dance/theater troupe Moving & Storage Performance Company under alias Hot Girls From the Fire Swirls. Headlined and supported shows at local SC clubs like Cafe Cameleon, Sluggos, O.T. Price's, Club Culture, house parties and San Francisco clubs like Klub Kommotion, as well as Marsugi's in San Jose. Entry in 1988 edition of 'Maximum Rock n'Roll' magazine.
Discography
Edit
Contributed to compilation vinyl disc of nu-wave bands, distributed by French label 'New Wave Records' in 1989.Gore Gore Girls v. 1, New Wave records
Recorded cassette EP of original songs (plus a cover of 'Leader of the Pack') at Duck Ranch Studios, San Jose: 'Go to Hell' by Women From Hell, 1989 (Clare-M-Phenpimon, with guests Yoder and Korycansky).